Today AAR's Melanie–who is all caught up on the show–shares her thoughts about this season of Outlander. She watches the show each week with her sister, Natalie. Here's their take:
---
With much ado, the current season of Outlander, the Starz adaptation of the novels by Diana Gabaldon, is coming to a close, and I have been an avid watcher since the beginning. While I don't have the cable channel myself, I've enlisted my sister's subscription and DVR to the service of romance series television, and I've gotten her hooked.
As I start to write this, I have to admit two things: one, I have never read Outlander, or any of the series by Diana Gabaldon (I'm perpetually stuck at 6% of Outlander, for no other reason than I have too many things to read in a limited amount of time); and two, I drank an entire bottle of wine during last Saturday's penultimate episode of the season, Wentworth Prison.
 In case I'm missing things (like large chunks of my memory and my liver), I've asked my sister, Natalie (who has read the books and is now on the fifth book of the series) to help me fill in the blanks. Her additions are in red.
We're almost at the end of the first season of Outlander, and I've been loving it. Well, up until this last episode where (spoilers!) terrible things are happening. I knew something big was going to happen (Dabney sent me this link about the episode which this little sister found highly disappointing as reviews go. I mean, having read the books I know what to expect and after reading that review I find that it was highly melodramatic in relation to the latest episode), but no matter how much I asked, Natalie just would not tell me what was going to happen. So mean.
Most definitely NOT mean!! Just want to save all the good stuff until you see it. Plus as far as the book form goes I was not sure how they would portray certain events.
The loveliness of this series being transferred to television for our viewing pleasure is that they have stuck to the books very well. I mean if you sat there and followed along they use a good 80% of the dialogue from the book. <3
I'm trying to keep things spoiler-free here, so I'm not going to discuss any major plot points (plus, unless it was part of the show, I definitely wouldn't know anything about it).
First of all, Jamie is a beautiful man.
No matter what terrible things are happening on screen, Sam Heughan makes me happy. And in this last episode, many terrible things happend. But Sam's Jamie made me feel a little bit better about it. Plus, his character is masterfully created – Jamie is vulnerable in interesting ways, strong in others, more than a little headstrong, and definitely suffers from acting before thinking.
Lies!!! While I will have to agree that he is vulnerable, strong, definitely headstrong (like an ox), he does not, I repeat DOES NOT "suffer from acting before thinking." Jamie was raised in a time when you have small windows to react, but he is always thinking. Just unlike Claire, you cannot always ken what he is thinking.
Secondly, Claire has the survival instincts of a lemming. She's smart and strong, obviously a trained nurse, and used to working near the front of World War II. Why does she continue to act as though she's in the 1940s? What is it that she just doesn't get about the 1700s?
The little sister disagrees! Claire knows how to be independent, but she takes the highroad when she is back in time, in part, because she knows she must allow her husband, Jamie, to be a man in his time. As the story goes on you learn just how strong of a woman she is and you understand better why she acts like such a sissy or lemming, as Melanie calls her most of the time.
I do really like her, though. Caitriona Balfe is a fabulous actress, and her beauty fits well in both the 1940s and the 1700s. Claire really is a strong female character and is unapologetic about the things that make her fit in less in the 1700s. For example, she's quite fond of drinking. I fully support this.
She's able to translate a lot of her skills (from nursing to building a fire you don't have to get up constantly to add logs to) to things useful for the 1700's time period, and also use her knowledge of the era, thanks to her modern-day husband, to navigate the political scene. I doubt I would be able to do as well in that situation.
It has been really hard to watch that whole scenario from the outside (by which I mean my living room).  In the beginning I LOVED Frank, but Randall (Tobias Menzies plays both men.) has poisoned my sense of him and so you get that awkward uncomfortable, squirm in your seat feeling when you think of them. But, alas, Claire handles it with the utmost, unnatural calm that she uses in almost all situations.
And oh, the chemistry between Claire and Jamie!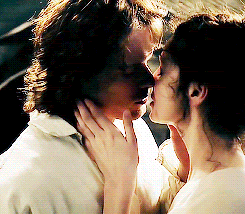 I wasn't expecting it to be quite as wonderful as it was. They really are quite beautiful together, and it's not just because actors are generally a beautiful species. When they work together, they really work together. It's definitely more about how their characters mesh than how they look kissing. And doing other things. Though again, they are pretty people, so that certainly doesn't hurt.
Speaking of chemistry, all of the sex scenes (of which there are many – be prepared to see Claire's breasts, and so much Jamie butt) are beautifully done, even some of the more awkward ones. The show is very careful about keeping the sexual moments (and really, the entire show in general) in realm of the feminine gaze. The sex is all about Claire and her pleasure, instead of watching her as Jamie, which keeps things from being pornographic while still getting pretty darn specific. It actually fits perfectly with romance as a genre, and I'm quite pleased with the result.
And, of course, the scenery is absolutely stunning. Each image works like a beautiful picture, and I want to be there with them. Except with electricity. And the internet. And a bathtub with hot running water.
Looking back over the course of the season, there are very few moments that do not move the plot along, which is amazing for a world that is so huge. As I said, I haven't read any of the books, so I don't know if there are things missing, but I'm looking forward to more – I'd watch the whole series this way.
Having read the books I will say that I hope they get to complete the whole series. There are moments that have you sighing with the beauty of it, moments I find myself giggling all by myself whilst reading the series, and times I cringe and worry and read as fast as I can to resolve whatever has happened. I have thoroughly enjoyed this series. I dread the day that I get to the final chapter of the final book.

Have you been watching Outlander? Are you waiting for the season to end, so you can binge watch the whole thing (which, now that I think about it, is a great idea. Which they are actually doing on the Starz Channel Memorial day Weekend starting at 2 pm CT and leading up to the Season Finale!!!!!)? Let us know what you think!
AAR's Melanie and her sister Natalie
Impenitent social media enthusiast. Relational trend spotter. Enjoys both carpe diem and the fish of the day.