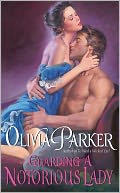 I'm willing to go a few rounds with anyone who criticizes romance novels. Usually they haven't read any, and have no basis for their criticism that they're all the same, or they're female porn, or – well, whatever. But sometimes I have to admit that certain titles invite a snicker or two. When someone asks you what you're reading, do you really want to answer "Guarding the Notorious Lady?" That particular title is easy to pick on because a) I just read it b) It wasn't very good and c) as another reader pointed out, the lady in question was not at all notorious. I told Scarlett (my daughter and fellow reviewer) that the title was probably from the Random Romance Title Generator.  "Is there such a thing?," she asked. "If not, there should be."
Actually, I think we did do one before, but time and conventions have marched on, so we're probably due for another one.  Choose one part from each list, mix and match, and let the titling begin!
Part 1:
Bewitching the
Lessons from a
Seducing the
Marrying a
Courting the
Pleasuring the
To Tempt a
Part 2:
Wicked
Sinful
Dangerous
Notorious
Scandalous
Desperate
Bold
Noble
Purple (okay, I threw this one in for fun)
Part 3:
Earl
Spy
Lady
Duke
Lord
Gentleman
Rake
Woman
Spinster
Courtesan
Footman (we'll never see that one)
Courting the Scandalous Lady! Lessons from a Wicked Duke! Pleasuring the Purple Footman! Coming soon to a bookstore near you (well, maybe not that last one). I'm sure I'm not the only one who has to read the first few pages of a generically-titled book to figure out whether I've read it before.  What do you think? And what clichéd words and phrases did I leave out? What words and phrases should we see that we rarely do?
– Blythe Barnhill
I've been at AAR since dinosaurs roamed the Internet. I've been a Reviewer, Reviews Editor, Managing Editor, Publisher, and Blogger. Oh, and Advertising Corodinator. Right now I'm taking a step back to concentrate on kids, new husband, and new job in law...but I'll still keep my toe in the romance waters.