This time last year, I hoped that the worst of 2020 wouldn't follow me into 2021. And while that didn't happen, I did find much to celebrate in 2021 perhaps because the past two years have taught me to find joy, laughter, and love wherever I can.
Here are a few things that made my soul shine this year.
The compassion and support of AAR's readers
Every day, I spend time at AAR and just bask in the love that is here for the site, for romance, and for each other. It's a gift and I can't thank you enough. It's an endless source of virtual hugs, insight, and humor. On top of that, this year AAR readers donated over $6500 to the site via our Paypal link. Many have included notes like these:
As a reader and an author, thank you for the breadth and variety of reviews you post!

Thank you for all the wonderful, insightful reviews! Even if I don't necessarily agree with the reviewer, I feel like I learn something from each one. Keep up the great work! :)

Thank you for the amazing resources and reviews!
These donations will allow us to stay online, to give generous gift cards to our writers, and to continue to improve the site. In a year where the news was often grim, the generosity here has been a balm.
Music for me made by me
I am an aural person and music is a literal drug for me. When I need to feel happy/sad/optimistic/sappy/sexy/energetic or almost any other emotion, I listen to tunes. Back in the day, I made cassette tapes, then moved to CDs and thumb drives. Had you told my teenage self that someday I could pick from millions of songs and put them together in endless combinations I and my friends could listen to, I'd have gaped. It's one of my favorite gifts from modern technology. In the past year, I've made countless playlists, each curated to my very specific needs. I made one for my 60th birthday, one for the holidays, one of Joni Mitchell covers, one of new releases that grabbed me, and more. As I write, I'm listening to my easy listening combo. And smiling.
The perfection that is Eric and Tami Taylor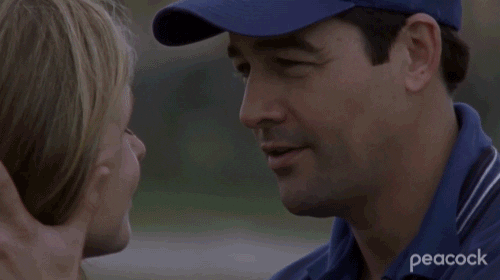 When Dr. Feelgood is his very best husband, I tell him he's winning the Eric Taylor award. Honestly, if there's ever been a better TV partnership, hell, I'm not even going there because NO. The Taylors are the GOAT. Over five seasons on Friday Night Lights–which we are watching for the second time–viewers knew that no matter what, Eric and Tami would be there for each other, respecting each other, loving each other, making each other smile, running for the bedroom, parenting like they were mainlining Dr. Spock channeling Oprah. Clear eyes, full hearts, can't lose–it's the maxim for (marital) glory.
How Coda made me feel
My mom loves movies. So when she comes to visit, I find films that she, I, and Dr. Feelgood will like. I sold them both on watching Coda by telling them that it had a 95% rating on both Google and on Rotten Tomatoes. When the final credits rolled, Dr. Feelgood said "95% is too low." Coda is joyful, representational, funny, aspirational, and a damn joy. In a year where the top show on Netflix is the horrifyingly grim Squid Game, I am so grateful AppleTV gave us Coda. It and Ted Lasso made AppleTV worth every penny.
The rule the world glory that is Lil Nas X
Not satisfied with crashing through the utterly arbitrary genre rules Billboard and radio had in 2019, Lil Nas X continued his gatecrashing ways in 2021 by letting the world know that being young, gay, hot as hell, and able to overcome any wardrobe malfunction is the way to rule the airwaves. THAT'S WHAT I WANT is an anthem for us all–I want someone who love me/I need someone who needs me/'Cause it don't feel right when it's late at night/And it's just me in my dreams/So I want someone to love, that's what I fucking want. And don't even get me started on the brilliance of Montero. The man, just 22, makes me think the future will be OK.
The virtues of Will Trent and Eric Dalton
Much of my reading in 2021 was thrillers for which I blame Karin Slaughter and Kelley Armstrong. (I discovered both authors through AAR readers so AGAIN, thank you!) I love romance novels but this year, I needed the insane pull of a stellar suspense novel to distract me every night before I try, usually in vain, to sleep. I read Triptych, the first Will Trent book, in April and then read all ten Will Trent books, all six Grant County books, and two of Slaughter's stand alones. Suddenly thriller bereft in June, I began the Rockton books and read all seven of those. And yes, Slaughter's propensity for violence against women isn't my favorite and there are logical impossibilities in the Rockton-verse but oh, Will and Eric are such wonderful heroes that I JUST DON'T CARE. Just thinking about Eric getting Casey a dog and Will trusting Sara with his dyslexia gives me all the feelings.
I also loved:
The work and intelligence of Caz and all the reviewers here. They are what makes AAR and they are, each and every one, phenomenal women.
The support and compassion of all those who comforted me when I put my dog Sophie down for biting, especially my friend Carolyn who went with me and sat by me as I held Sophie for the last time.
The text chain I have with my siblings where we share things that matter and things that absolutely don't but just make us laugh.
The cups of coffee my husband makes for me every morning before he goes to work.
Watching my adult children form their own profound connections with each other.
Getting Queen Bee every day no matter how hard it is.
My Aura photo frame that helps me remember all the joyous memories from the past.
Being part of Carrboro United–it was such a gift to be able to help keep my community going and get to eat fabulous food.
How about you? What gave you joy this year?
Impenitent social media enthusiast. Relational trend spotter. Enjoys both carpe diem and the fish of the day.