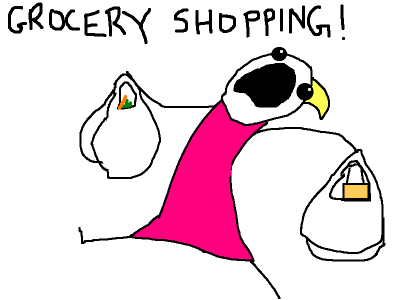 Yesterday I went grocery shopping and spent $173.28.  For one person.  Me.  No diapers, no formula, no snacks, no organic food, no impulse buying (unless you consider an air freshener for my car at $2.97 impulse buying. 
I bought:
Meat: Two packages of chicken breast (I was going to grill one for a friend who is moving-but my grill is not working), one package of turkey bacon-12 oz, one package of hamburger meat -12 oz.
Dairy: One carton of eggs, 1/2 gallon of milk, two cartons of eggbeaters.
Produce: Cauliflower, broccoli, sweet potatoes, mushrooms, baby carrots (2-packages – I am making marinated vegetables and already had the bell peppers & celery), one avocado (for my grilled chicken salad that is not going to happen now), one package of sweet onions, one butternut squash.
Miscellaneous: One small jar of sweet pickle relish, store brand vegetable oil, two cans of tomato soup  for marinated vegetables, seasoning (crushed rosemary and a chicken rub), one package of bagel slices, and one small package of cereal.
Household supplies: Large toilet paper, large paper towels, Mr. Clean Erasers, kitchen garbage bags.
Hygiene: Electric tooth brushes ($28.00 – which is highway robbery) and a small bottle of contacts cleaner.
What I didn't buy because I do have at home is: Cheese, coffee, Coke Zero, bread, yogurt, apples, oranges – all which I will probably have to buy toward the end of next week.
It is difficult for me to fathom how large families can afford to go grocery shopping.   Are you experiencing the same shock when you check out at the grocery store?
– Leigh