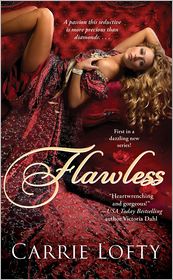 One message I kept hearing during this summer's RWA conference was that publishers were finally ready to look at books that are different. Not every publisher was saying it, mind you, but I heard it a lot more than I had the year before – when the message seemed to be: "Take a look at what we are already publishing…and write something just like that." But at the same time, I had an author tell me that her slightly different historicals (I mean really, they were still set in England) weren't selling as well as she – or her publisher – had hoped. Consequently, she will probably have to switch back to Regency or Victorian set historicals. Which really made me think that those of us who are informed, internet-savvy readers need to vote with our pocket books.
Now, don't get me wrong. I love Regencies as much as the next person, and probably more than the next person. I hope that the people who love writing them continue to write them. There will always be room in my heart for spies, spinsters, poor relations, and Almacks. But I don't just want to read about that. People have been successfully falling in lust and in love and populating the planet for some time now, all over the world – not just in nineteenth century England. And those of us who have been reading and reviewing romance novels for years start craving variety like we crave air.
These three books – from three different publishers – all offer something a little bit new and different:
Carrie Lofty's Flawless; will be published by Pocket in October. The heroine is from New York. It's set in Colonial South Africa, where the heroine and her estranged husband must earn her inheritance by proving they can run a diamond business. I've never read that one before.
Jeannie Lin's The Dragon and the Pearl; is set during the Tang Dynsasty in China. The heroine is a former emperor's consort, and the hero is a warrior caught up in political drama. What? People used to fall in love in Asia too? Who knew? This is Lin's second book set in the Tang Dynasty, and will be published by Harlequin Historical in Late September.
Anna Randol's A Secret in Her Kissisn't out until February. But it's a) published by Avon and b) an historical set in Constantinople. I know! Constantinople!
I'm going to buy all of them, regardless of how good they are or what kind of reviews they receive. Now granted, they are all probably good anyway. I read Carrie Lofty's Portrait of Seduction earlier this year and thought it was quite good, and Jeannie Lin's first novel, Butterfly Swords, received DIK status here at AAR. And really, what are the odds that Avon would take a chance on a romance set in Constantinople if it sucked?
But suppose all three of them are awful? I don't care; I'm buying them regardless, and I think you should too. Because as consumers, we need to send the message that we want variety in our reading. If books that take risks fail, the likely conclusion will be that their setting is to blame. I doubt the powers that be will reason, "Well, this isn't a isn't a good book set in South Africa/China/The Ottoman Empire, but I'll still take a chance on the next one." So I'll be putting my money where my mouth is, even if all three of these books get Ds. I'm not sure I would have said the same thing ten years ago, but then I'm older and (maybe) wiser, and I have a little more disposable income. I also don't want to spend the next ten years reading solely about Lady Sally Spinster from the "I'm never getting married" club getting love lessons from the scandalous Duke of Swiveshire. Who's with me?
– Blythe Barnhill
I've been at AAR since dinosaurs roamed the Internet. I've been a Reviewer, Reviews Editor, Managing Editor, Publisher, and Blogger. Oh, and Advertising Corodinator. Right now I'm taking a step back to concentrate on kids, new husband, and new job in law...but I'll still keep my toe in the romance waters.