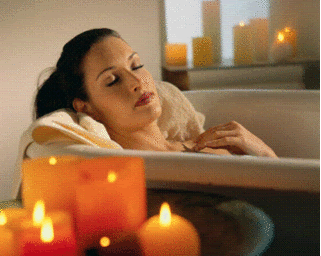 Tuesday is Valentine's Day and for some it is just another day, either by choice or because of the lack of a significant other.  If you want to be in a relationship or have just ended one then it can be a difficult.  I remember when I worked in an office full of women with the majority receiving flowers or talking about their plans for the evening.  And yes, I had my share of pity parties on February 14th.
If you don't have plans, then you can turn it around and make it a day where you pamper yourself.  You have time today to plan ahead and decide how you are going to do something nice for yourself.
Love flowers?  Buy yourself some.  It doesn't have to be expensive – flowers from your local grocery store, or Wal-Mart can do a lot to cheer up a room.  I have to admit that buying flowers is difficult for me.  I pick them up and then think no, you don't really need them.   But when I do indulge I get so much enjoyment just walking into the room and seeing them.
If you are like me, then you don't mind spending hours cooking a special meal for other people, but when it comes to cooking for yourself, it is too much bother.   While you sure don't want to spend four hours in the kitchen after you get home from work,  cook something that you really enjoy instead of  TV dinners or cereal.  You can make the dinner special by setting a pretty place setting and using your good dishes.  If you hate to eat alone, then invite a friend over for dinner.
Valentine's Day is cause enough for chocolate, but on this day eat the really good stuff and savor it. 
Of course you can do many other things besides candy, meal and flowers.  Think of what makes you feel pampered and do it. Don't wait for someone else to treat you special.  Do it yourself, and have a wonderful day. 
Share how you pamper yourself.
 – Leigh
.