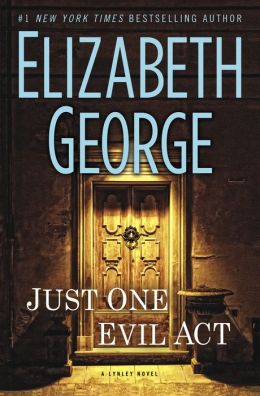 Warning: This post is full – chock full – of spoilers for Just One Evil Act.
Fun fact: Elizabeth George taught English at my high school. I never had her as a teacher, and she wouldn't know me from Adam, but the fact that she taught my school when her first book was published was the reason I read it, and nearly all her others. At this point, she's been publishing and I've been reading for a quarter century, which I guess makes me old and her older. I went through a mystery-reading phase in junior high and high school, but obviously it's not my primary genre of choice – or I'd be publishing All About Mysteries instead of All About Romance. Nonetheless, I've stuck with Elizabeth George because I liked her characters and settings.
But now, half way through Just One Evil Act, I think I might be done. I'm not sure if I'm even going to finish it, though maybe one of you can talk me into it if you promise me that things turn around. If you've kept up with George, you know where the problem started – with the death of Lady Helen and her unborn child at the hands of a young gunman. Has anyone in George's readership truly forgiven her for that? I doubt it. I figured I forgave her more readily than most, since I pretty much kept reading (with the exception of What Came Before He Shot Her – because I couldn't have cared less what came before he shot her). But I'll defend Careless in Red, which revolves around the grieving Thomas Lynley, as a good book, even though I was still pissed about Helen and the baby. But then he started nailing his bitchy, alcoholic boss (who oddly enough actually seems to be a better person in Just One Evil Act) and pursuing an unlikely and only borderline interesting liaison with a roller derby-playing veterinarian. This didn't really help my interest any.
But what's made me stop cold (and here is where the huge spoilers begin, so if you want to wait so you can be disappointed and annoyed yourself, feel free to stop reading here) is the behavior of Barbara Havers and Taymullah Azhar in the latest book. Basically, Azhar plots to kidnap his daughter and spirit her away to Pakistan, and when I stopped reading, Barbara had just found out about it and was about to lie to her superiors (including Lynley, who over the course of the series has repeatedly gone to bat for her) and cover for him. Really?
Really? Can't Barbara maintain her integrity? She's had a rough go of it. She's not wealthy. Her only family left is her mother, who suffers from dementia. She's dumpy and unlucky in love. Can't she at least have the courage of her convictions? And Azhar has already abandoned one family so he could pursue a flighty, attractive woman. On what planet are his actions here okay? Like Lynley and Barbara, He's not the person I thought he was.
Which brings me full circle to the reason I read romance: I like happy endings. I realize that real life is not all sunshine and rainbows, and that real life happens after you get married and ride off into the sunset together. I've been married for almost 25 years myself, so I also know real life includes arguments about spending, kids who get in trouble and do stupid things, and plenty of laundry and job stress. But I also like books where all those things happen to people and they work it out together. Call me a cock-eyed optimist.
So tell me: Has anyone else read this? Will something happen that will turn my opinion around? Or should I just go compensate by baking cookies, watching The Holiday, and reading some dependable Julia Quinn?